The first Highbury Fields summer tournament took place on June 18th 1988 and was organised by the Highbury Fields Association. Somehow the 24 players managed to complete men' singles, men's doubles and a round of mixed doubles despite the use of just two courts!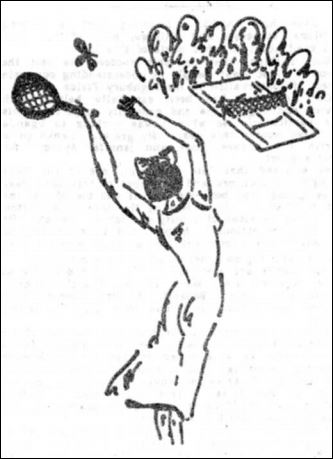 The event was not without its teething troubles. "Around lunchtime those who should have been on court had sloped off for a beer and sandwich and were nowhere to to be found," Jennifer Aykroyd reported in the Association newsletter later that year. Nevertheless the sun shone, a "splendid English tea with cucumber sandwiches and strawberries and cream was served" and the Association vowed to do it all again the following year.
As far as we know, there has been a tournament every year since, and you can read the reports on the HFA's website newsletter archives. By the second year 40 people were playing, a bookie was installed and 70 HFA members attended the lunch – "spicy chicken legs, sizzling sausages " and of course, more strawberries and cream.
By its tenth anniversary the HFA was promising more events than ever – men's and women's singles, mixed doubles, parent and child doubles and events for juniors too. There was even to be a prize for the player or spectator with the most original tennis gear ("equipment or clothing") and the promise of a jazz quartet. Sadly the heavens opened that year "but in true British tradition the show must go on!". Despite the rain more than 80 players took part and the newsletter records victory in the women's singles for someone who was to be vital to the future of the event, Wendy Proudfoot.
Wendy shared the organising of the event for many years and by 2014 had helped take the tournament under the wing of the Highbury Fields Tennis Club. This year, she and the club have taken a well-deserved break from organising duties, handing over to a committee representing many of the different strands of tennis on the Fields (including the club) and headed up by Social Tennis organiser, Jill McLaughlin.
We hope it is the start of a new golden era that can live up to the splendid tournaments of the past – and if that is too ambitions, at least that the sun shines.