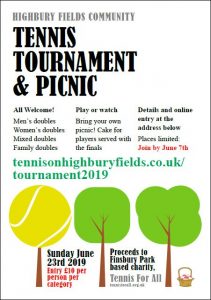 Summer Tournament: Unfortunately, the event planned for June 2020 was cancelled because of the coronavirus crisis and there was no summer 2021 event, however Local Tennis Leagues stepped into the breach and teamed up with Tie Break Tens for a special event on Sunday July 18th 2021. Currently there are no published plans for a Summer 2022 event.  Meanwhile you can read about the Field's past Summer Tournaments here.
---
Weekend mix-ins: Restart from Saturday 5th June 2021. See here
---
The Steering Group was set up in early 2012 in response to changes in the management of the tennis courts at Highbury Fields. We wanted the tennis professionals and the user groups who have made this such a strong tennis venue to have the chance to have their voices heard collectively and individually.
The group now has an active role in the management of tennis on the Fields.
This site provides basic information about tennis on the Fields with links to the various organisations providing tennis services.